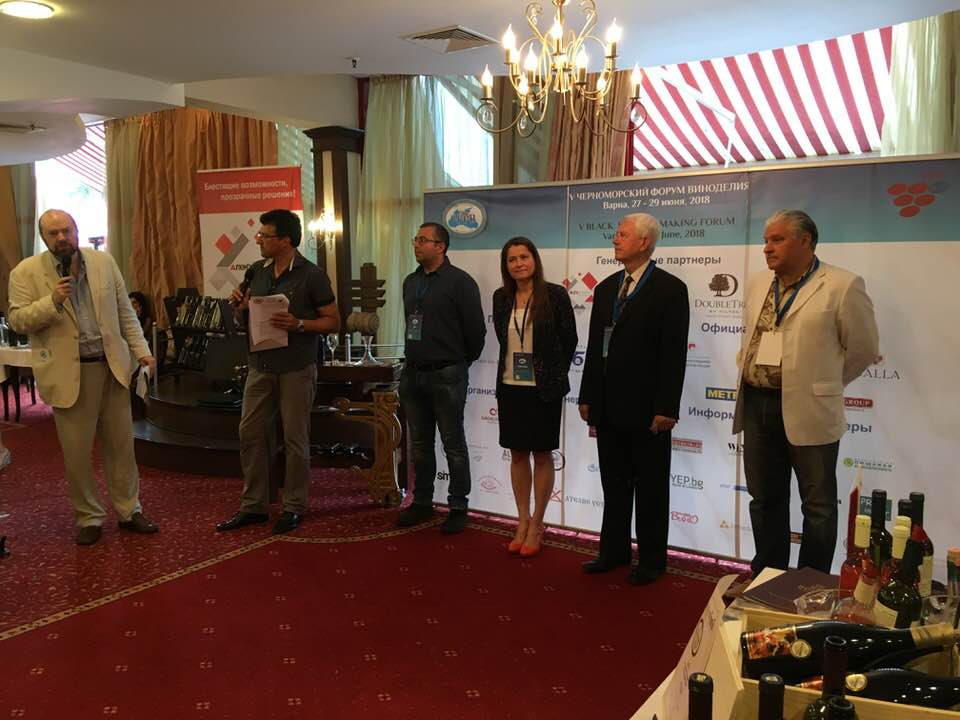 V Black Sea Winemaking Forum was held on 27 June – 29 June 2018 in the famous Black Sea resort Golden Sands in Varna city, Bulgaria, in the DoubleTree by Hilton Hotel Varna –Golden Sands.
The V Forum was held under the OIV (International Organization of Vine and Wine) high patronage and with the support of Ministry of Agriculture of Russian Federation, Varna Municipality and the Union of Bulgarian Enologists. It gathered together wine producers, distributors, retailers, oenologists, wine experts, heads of the national associations of the winemakers and sommeliers from more than 20 countries.
The Forum is the region's largest specialized comprehensive branch event. A total of about 2000 participants, representing more than 30 countries and more than 450 enterprises and organizations took part in the events of the first five Forums.
The Forum consisted of the following activities:
exhibition of winemaking enterprises (wines and spirituous beverages) and related sectors companies, the exhibition will be opened both to the professionals - forum's participants and to the public (wine fans from Bulgaria and foreign tourists resting on the Bulgarian resorts this period);
conference "Founding of the functioning international platform to support the development of the Black Sea Region and the Balkan Peninsula winemaking sector";
master classes and companies'presentations;
on the sidelines of the Forum the traditionally popular among the winemakers of the region International Wine Contest "Black Sea Wines 2018" was also held. The producers of the wines, brandies and other spirituous beverages of vitivinicultural origin competed for the awards in accordance with the OIV (International Organization of Vine and Wine) standards.
The Jury of the Contest consisted of the leading experts from the countries of the region (Azerbaijan, Bulgaria, Croatia, Moldova, Georgia, Greece, Russia and Turkey). Chairman of the Jury was Stanimir Stoyanov (Chairman of the Union of Bulgarian Enologists).
The Contest is an independent platform for the Black Sea Region wines international evaluation. The results of the Contest are particularly important for the consumers from the Russian speaking world, who are in general cannot follow the usual world known English ratings. The results of the Contest are presented on the Black Sea Winemaking Forum Website.
PROGRAM
V BLACK SEA WINEMAKING FORUM
The V Forum was held under the OIV
(International Organization of Vine and Wine) high patronage and
with the support of the Ministry of Agriculture of Russian Federation,
Varna Municipality, Bulgarian Chamber of Commerce and Industry and Union of Bulgarian Enologists


Place: Varna city - Golden Sands, Bulgaria
Hotel: DoubleTree by Hilton Hotel Varna – Golden Sands
Address: Alley 3, Golden Sands, Varna, 9007, Bulgaria
Dates: 27 – 29 June 2018
24-26 June 2018
10:00-16:00
Work of the Jury of the International Wine Contest «Black Sea Wines 2018»
«DoubleTree by Hilton Hotel Varna – Golden Sands»
26 June 2018
14:30-17:00
Arrival of the participants, check in at the hotel

Excursion to the Archaeological Museum of Varna city (upon the special invitation of the Black Sea Winemaking Board)
27 June 2018
From 09:00
Registration of the participants of the V Black Sea Winemaking Forum
Hotel «DoubleTree by Hilton Hotel Varna – Golden Sands»- lobby
10:00-18:00
Exhibition Opening Hours
Hotel «DoubleTree by Hilton Hotel Varna – Golden Sands», hall «Dionysus» и Sun Terrace
11:00-11:50
Official Opening of the V Black Sea Winemaking Forum
Hotel «DoubleTree by Hilton Hotel Varna – Golden Sands», hall «Dionysus»


Greetings:

• Atanas Dobrev, Deputy Minister food, agriculture and forestry Republic of Bulgaria

• Jean-Marie Aurand, General Director of the OIV (International Organization of Vine and Wine)

• Vitaly Merkushev, Chairman of the Black Sea Winemaking Forum Board

• Alexander Korzhov, Acting Consul General of the Russian Federation in Varna

• Ivan Portnyh, Major of Varna

• Ivan Tabakov, Chairmаn of the Varna Chamber of Commerce and Industry

• Stanimir Stoyanov, Chairman of the Union of Bulgarian Enologists

• Igor Bukharov, President of the Federation of Restaurateurs and Hoteliers of Russia

• The heads of the professional Associations and Unions from the participating countries

• The representatives of the General Partners of the V Forum

12:00-17:00
Conference «Founding of the functioning international platform to support the development of the Black Sea Region and the Balkan Peninsula winemaking sector»

Hotel «DoubleTree by Hilton Hotel Varna – Golden Sands» ,hall «Calipso»
12:00-13:30
Session I. Heritage and Communications
The region's long vitivinicultural heritage: how to develop the industry but not to lose the uniqueness.
How to encourage the communications between the wine regions and associations addressing industry issues of common concern
Moderator: Vitaly Merkushev, Chairman of the Black Sea Winemaking Forum Board
Speakers:
Tatiana Svinartchuk, OIV
Alexander Panasyuk, Russian Research Institute for Wine, Beer and Soft Drinks Industries
Ivan Pachev, Institute of Viticulture and Enology
Miroslav Ivanov, Institute of Viticulture and Enology
Vanio Khaigorov, Institute of Viticulture and Enology
Stanimir Stoyanov, Chairman of the Union of Bulgarian Enologists

13:30-14:30
Break
14:30-15:30
Session II. Structure for the common platform
The structural foundations for the common platform to promote the good fellowship in the region: core organization and the network of partners
Moderator: Stanimir Stoyanov, Chairman of the Union of Bulgarian Enologists
Speakers:
Krešimir Ivančić, Griffin Ivančić Winery
Akin Gurbuz, Gurbuz Gida A.S.
Ivo Kozarčanin, Editor, BLOG.VINO.HR

15:30-17:00
Session III.
Development of cooperation with the structures of support: the Black Sea cuisine as part of the cooperation platform of winemakers in the region Moderator: Igor Bukharov, President of the Federation of Restaurateurs and Hoteliers of Russia
Speakers:
Vladimir Bakanov, Federation of Restaurateurs and Hoteliers of Russia
Georgi Trepkov, Bulgarian Association of Balneology and SPA
Zhelyazko Karakashev, Bulgarian Association of Professional Chefs
Zhelyazko Atanasov, Association of Tour Operators and Travel Agents in Pomorie

18:30-22:30
Excursion to Bulgarian Tzar's and presidentional residence and winery "Evxinovgrad" (upon the special invitation of the Black Sea Winemaking Board) (group 1)
Visit to the winery and horse farm Salla, the dinner in the national cuisine restaurant (upon the special invitation of the Black Sea Winemaking Board) (group 2)
28 June 2018
10:00-18:00
Exhibition Opening Hours
Hotel «DoubleTree by Hilton Hotel Varna – Golden Sands», hall «Dionysus» и Sun Terrace
12:00-13:00
Master class
CORAL GRIFFIN - Premium Croatian sparkling wines aged on the bottom of the Adriatic sea
18:30-22:00
Dinner paired with Burgozone wines in national cuisine restaurant. The event is supported by the Burgozone Winery – Official Partner of the V Black Sea Winemaking Forum (upon the special invitation of the Forum's Board). Performance by Bulgarian folk group, dancing of the Nestinars. (group 1)
Visit to the agro cluster of Albena resort, the dinner in the national cuisine style from the winery Wine Union-Nisovo (upon the special invitation of the Forum's Board) (group 2)
29 June 2018
10:00-18:00
Exhibition Opening Hours
Отель «DoubleTree by Hilton Hotel Varna – Golden Sands», зал «Dionysus» и Sun Terrace
12:00-14:00
Awards Announcement of the International Wine Contest «Black Sea Wines 2018»
Opening wine tasting of the Award-winning wines
«DoubleTree by Hilton Hotel Varna – Golden Sands», hall «Dionysus»

From 20:00
Official closing reception of the V Black Sea Winemaking Forum
Furshet
Hotel «DoubleTree by Hilton Hotel Varna – Golden Sands», Sun Terrace
30 June 2018
Departure of the participants





Place аnd Time
V Black Sea Winemaking Forum was held on 27 - 29 June 2018 in Bulgaria, in the famous Black Sea resort Golden Sands in Varna city, in the Hilton hotel of the world leading chain in the hospitality industry DoubleTree by Hilton Hotel Varna – Golden Sands